July 13th, 2015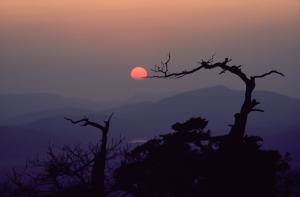 Rather than take the reader's time with self-important rambling, I want to use these blogs to introduce my photographs.

This first photograph is a very early one for me. It is a rare, for me, 35mm photograph because, back in the "film days", I usually used 6x7 or 4x5. It is my first published photograph and has appeared in several publications.

The image was made from the top of Mt. Scott in southern Oklahoma. Mt. Scott is in the Wichita Mountains National Wildlife Refuge near Lawton. This is a rugged area inhabited by buffalo (I know it's supposed to be "bison" but I just can't bring myself to use that term), elk, turkey, wild longhorn cattle, mountain boomers ("collared lizard sounds so dull), deer, and rattlesnakes among other species, Here the animals run free and the people are warned to be alert for them.

The Wichita Mountains were revered by the Kiowa, Comanche and Apache. Geronimo and Quannah Parker are buried nearby. The land here is mixed grass prairie that has never been plowed dotted by low granite mountains that are really spectacular. It's the beginning of the American Southwest. This is area is one of Oklahoma's jewels and one of her best kept secrets.

The photograph was made at the end of a long, hot summer day of hiking in the refuge. I had a brand new 200mm lens for my Pentax MX and when I saw the sun begin to set I thought it would be ideal for the new lens. So I set my tripod up on a high rock and waited for the sun to move between the two trees. But what I imagined did not happen. As I waited, the sun began to disappear behind some clouds. I had to make the exposure earlier than I intended and shortly afterwards the sun was gone and never made it into the planned position. Some have criticized the image because the tree branch protrudes into the sun or because the sun is partially obscured by the clouds. A painter could make it "perfect" but, to me, those are the unscripted parts that make a photograph special.

Take time to view the image (http://myrsphoto.artistwebsites.com/featured/2-tree-and-sun-from-mt-scott-richard-smith.html) and my others. And, if you're in the area, visit Oklahoma. It's much more than you expect.